CNC Plasma and Oxyfuel Profile Cutting Machines - Flybridge X020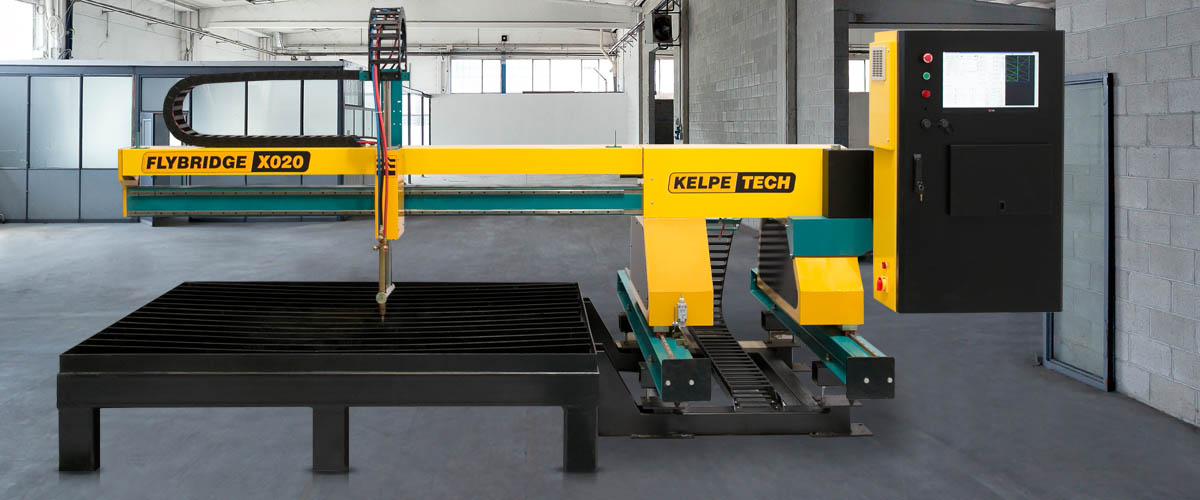 Overview
KELPE manufactures complete CNC Oxyfuel and Plasma Profile Cutting Systems. The FlyBridge X020 series provides a low cost solution for automating Oxyfuel and Plasma profile cutting of metal plates. The basic X020 machine is equipped with interchangeable Oxyfuel and Plasma machine torches on a single head. The Oxyfuel torch is capable of cutting upto 150mm thickness on MS plate and the Plasma Torch can be supplied with 10mm, 16mm, 25mm or higher cutting thickness capacities according to the plasma power source selected. All machines have a standard effective cutting width of 2m and an effective cutting length that be configured from 2m upto 14m.
Precise positioning with 0.1mm resolution is achieved by the combination of an embedded closed loop real time controller and servo controlled ball screw and rack drives on the X, Y and Z axes. Once the cutting plan is prepared offline using the True Shape Nesting Software provided, the CNC file is transferred to the machine by means of a CD, USB or WLAN interface. The operator can then execute and monitor the program using a very simple, easy to use graphical user interface provided on a 19″ LCD monitor. Marking is not required and the exact cutting progress is displayed on screen. During the cutting operation, operator input is minimized by the Auto-Ignition, Remote Flame/Arc On/Off Control and Auto Torch Height Control facilities provided.
Compared to manual cutting, the FlyBridge X020 provides superior cut edge quality, reduces consumable consumption and vastly improves productivity.
Features
Cantilever Design For Easy Loading of Plates
Compact and Portable Machine Structure
MITSUBISHI (Japan) Electronic Controls
HARRIS (USA) Oxyfuel Cutting Torch
Choice of HYPERTHERM (USA) Plasma Units
Hardened and Ground LM Guideways on all Axes
Precision Ball Screw / Rack and Pinion Drives on all Axes
19 inch Display and True Nesting Software